Suppliers of precision fabricated components in the UK and around Europe, Katmex are based in the North East of the United Kingdom, close to Newcastle.
With the capacity to process up to 2,500 tonnes of steel plate every month using the latest technology gas and plasma cutting equipment, Katmex are a major contributor in the manufacturer of components for the heavy earthmoving and construction machine sector. With a full order book, manufacturing at full capacity requires a reliable and efficient production line.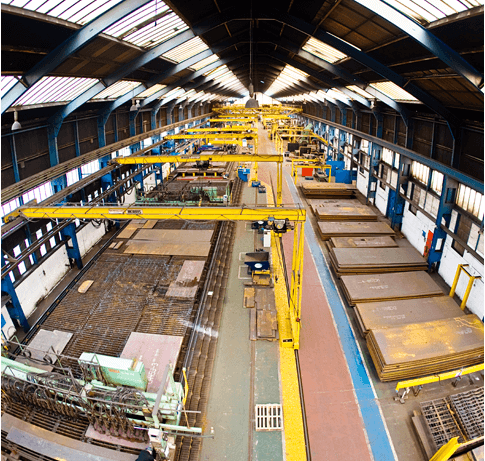 THE BRIEF
It was during a particularly hot summer in 2018, thermometer levels were rising in the UK when we received a call from John Donaldson, maintenance engineer at Katmex. John had been looking on-line to find a suitable company that could help with his dying Mazak CNC machine tool, he found Zeus Hydratech and really liked our helpful and positive attitude towards this project. John explained that the hydraulic system that allows the CNC machine tool to change cutting heads had lost flow and pressure, it was suffering in the heat and he desperately needed some help and quickly.
The existing power pack unit was a very old and worn Nachi system – it was looking like it was time to retire the Nachi unit and find a direct replacement.
---
THE APPROACH
As a Nachi distributor we initially looked to get a direct replacement however we quickly realised the lead time of 10 weeks was simply not going to be acceptable for the client. The Mazak machine tool installed at Katmex required a flow of at least 20 litres per minute with a working pressure of 40-50 bar. With machine criteria confirmed, time scale was tight – we needed a suitable power pack solution and quickly.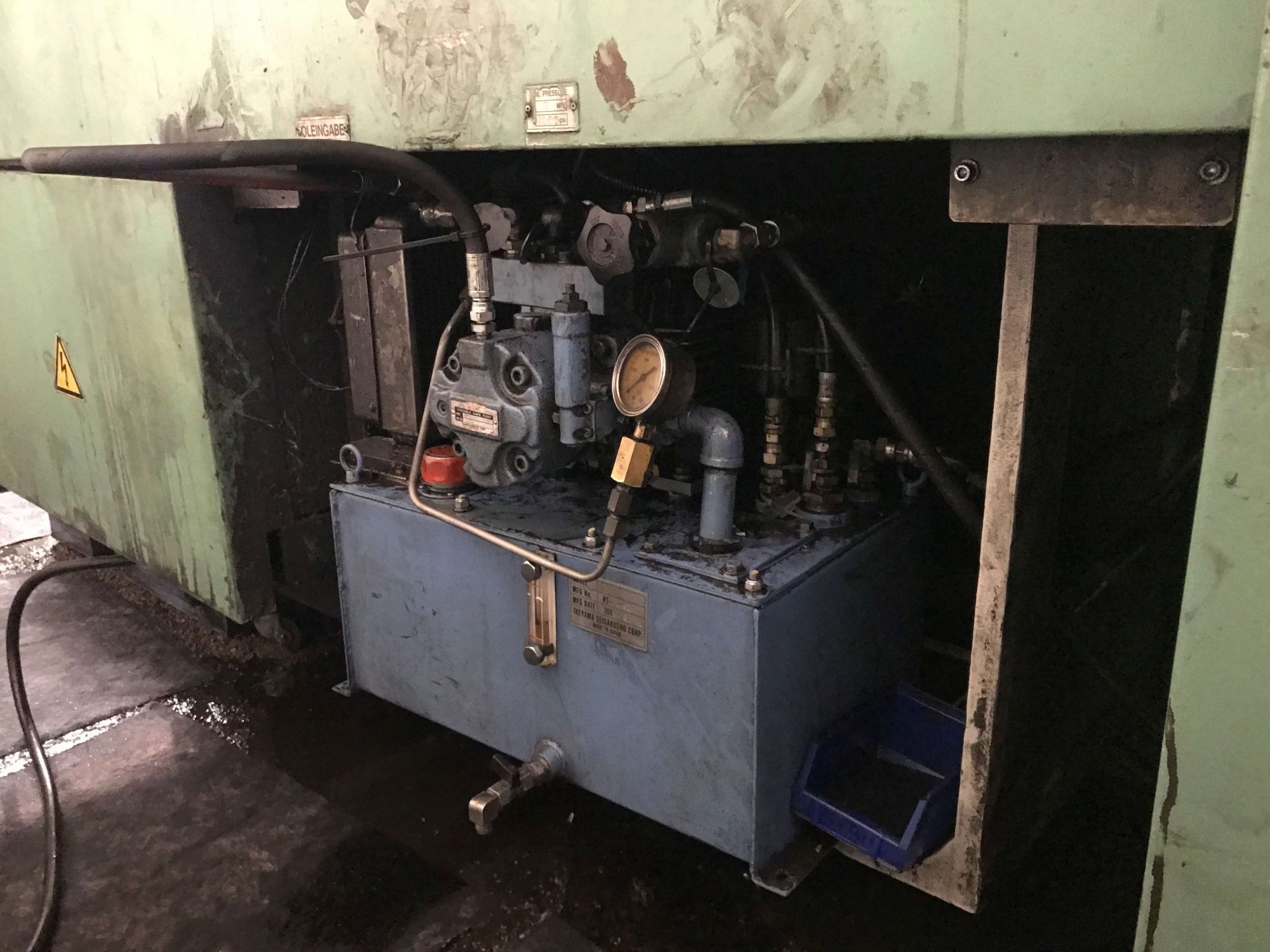 Above: Installed Nachi power pack
As the UK's approved distributor for Daikin, a premium Japanese hydraulic manufacturer, we hold stock of their EHU units, a variable speed power pack focused on energy efficiency with a compact and lightweight construction. After running checks on the associated data sheet, we were able to confirm that their larger unit, the EHU3007-40 was going to give the required flow, pressure and fit comfortably in the existing recess in the rear of the Mazak machine tool. In addition to the power pack, some additional pipe fittings would be required, we located these and had everything ready the same day.
One small sticking point was the distance, Katmex are in the North East (near Newcastle) whereas Zeus Hydratech are located near Bristol. Given the urgent nature of the enquiry, it was decided that the new power pack would be shipped on a same day carrier direct to Katmex and our engineer would get a flight from Bristol airport later that afternoon up to the nearby airport in Newcastle.
First thing in the morning, our engineer was on site and the process of removing the old Nachi power pack began. Within 3 hours the old unit had been removed, a steel mounting plate (manufactured using the Katmex plasma cutting tool – thanks guys!) was installed and the new Daikin power pack installed. All associated wiring and pipe connections were completed shortly after – we were now ready to turn on the new unit!
---
THE RESULTS
Within just 2 days of John making a call to Zeus Hydratech, a new, super economical power pack had been installed and commissioned in their dying Mazak machine tool. Production continued later that day and we left site with some very happy engineers and production managers – crisis avoided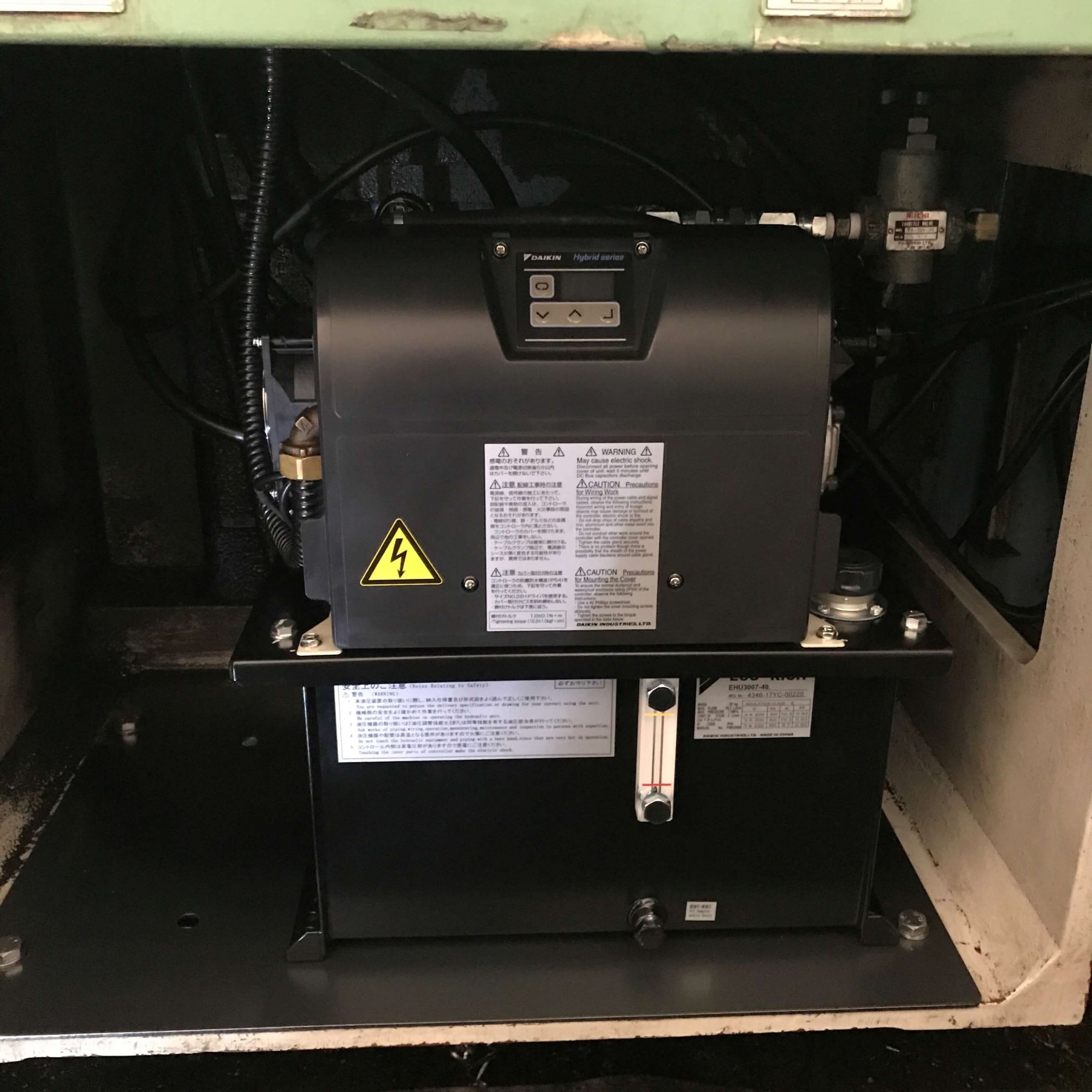 The Daikin EHU (pictured above) power pack utilises the same variable speed technology that Daikin developed and pioneered in their extensive range of air conditioning systems. Utilising a fixed displacement gear pump, the EHU powerpack invertor ramps the motor speed up or down to directly match the flow and pressure requirements within the hydraulic circuit. Significant energy savings are achieved when a hydraulic system is in a pressure hold scenario, i.e. there is no flow requirement, but a fixed pressure is necessary in a clamping situation.
Typically, you would expect to see the motor drop from 1750rpm right down to 800rpm during a pressure hold. If you have a hydraulic circuit that incorporates a stage that requires zero flow but needs a constant pressure (such as a clamp process) then the Daikin EHU (and its larger brother, The Super Unit) would be worth considering (up to 70% energy savings can be hard to ignore!)
---
John Donaldson, Production Engineer at Katmex commented:
From the initial phone call I made to Zeus to the commissioning of the replacement hydraulic power pack, the engineers could not have been more knowledgeable, technically able and helpful!

With only limited information and a few photographs provided by myself, a solution was proposed, and a plan formulated to restore the reliability and usability of my machine.

Even the distance between us was not a problem, with flights organised and same day shipping arranged to ensure engineer and unit arrived in the shortest possible time.

The recommended power pack was compact enough that no machine modification was required to enable fitment, but powerful enough to fulfil the needs (both oil flow and pressure) of a large CNC machine.

The CNC machine now runs noticeably smoother and cooler. And any thermal trips during the hotter months are now a distant memory, with no reported downtime due to oil temperature or pressure since the conversion. From start to finish, the project was handled exceptionally well, so well in fact that I've since called upon the services of Zeus to help me out with several further power pack conversions"
If you would like to discuss how Zeus Hydratectch can be of assistance within your business, please contact us by clicking here.