View all specifications
SUT00S1507-30 Super Unit - Hydraulic Power Pack
Daikin's Super Unit has turned the conventional industrial hydraulic power pack on its head and made it into something very special indeed.
We live in a world that demands significant reductions in energy consumption. Conventional hydraulic power pack units utilised within industrial applications unnecessarily consume large amounts energy due to the nature of their design and configuration.
Daikin utilise their high efficiency interior permanent magnet (IPM) motor technology (previously pioneered and utilised in their successful air conditioning units) to give a variable speed drive solution to their hydraulic power pack. IPM motors operate at a 93% efficiency which is considerably more efficient than a conventional induction motor (typically 70-80%) In addition to their efficiency, IPM motors also give huge improvements in torque output during their required operating RPM, this results in a consistent pressure output from the hydraulic gear pump even at varying flow demands.
Daikin offer a broad range of Super Units to choose from (14 models in total)
Flow range: 15 ~ 110 litres/minute.
Operating pressure range: 70 ~ 206 bar
---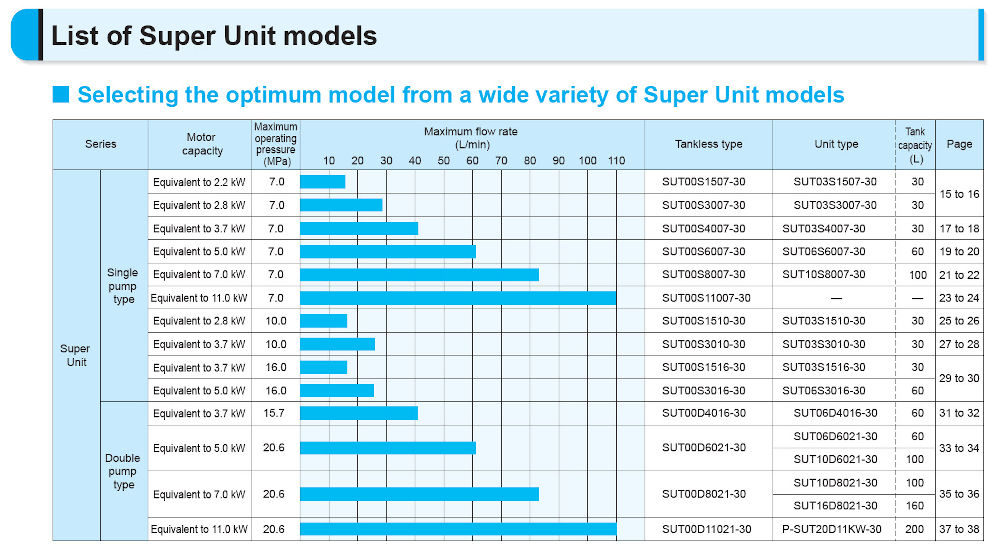 ---
Product Features
Energy Saving - high effieciency IPM motors provide huge savings (typically 50%)
Low noise (just 60dB at 206 bar with the double pump unit)
Multi stage pressure/flow rate control - sixteen pressure (P) and flow (Q) settings are avaiable
Maintenence/management function - Internal data of the super unit can be managed via using a connected laptop
Excluded from high-efficiency motor regulations - Super units that incorporate IPM motors are excluded from these regulations
Reduce your control valves! Using on-board parameter settings, conventional flow and pressure control valves are not required
Remote control operation - PLC compatible through RS232C serial communication
Analog command input - Enables continious control of pressure & speeds as required
---
Looking to repair your Daikin Super Unit?
We carry a broad range of spares for the Daikin Super Unit so if you either wish to repair your unit yourself or would like us to do it for you, we're able to assit. Please call +44(0)1172 130042 or Email with your Super Unit part number and serial number to discuss your requirements.
Downloads & Datasheets